Post-inflammatory hyperpigmentation is the body's natural response to inflammation and squeezing pimples can worsen the inflammation, and as the skin heals, it produces too much melanin, and dark spots develop.Though over-the-counter products help in reducing acne and dark spots, simple home remedies are equally effective, and we have listed 10 home remedies below:
1. Take half a piece of nutmeg or use 8-10 jamun seeds and make a paste out of them with rose water. Apply on face, keep for 20 minutes. Wash with cold water when dry.
2. Potato and Aloe Vera Gel: This is another easy-peasy remedy to treat dark spots on your face. Extract some fresh potato juice and add organic aloe vera gel to it. Together, this mixture will moisturize your face and keep it blemish-free and spot-free in the long run along with fading away existing dark spots.
3. Turmeric with Honey: Turmeric contains curcumin, a bioactive component with anti-inflammatory and antioxidant properties. Turmeric adds glow to the skin, brightens and lightens complexion. Turmeric works amazingly well to treat dark spots and patches. Combined with honey, it can work really fast to fade acne scars and dark spots. Mix one tablespoon of raw/organic honey with a pinch of turmeric. You can apply this mask all over the face or just on dark spots. Wash it off after 20 minutes with lukewarm water. You can use this mask twice daily.
4. Squeeze a fresh lemon into a glass of freshly boiled milk. Leave aside for some time, then apply when it cools down and leave on the skin overnight. Wash off next morning.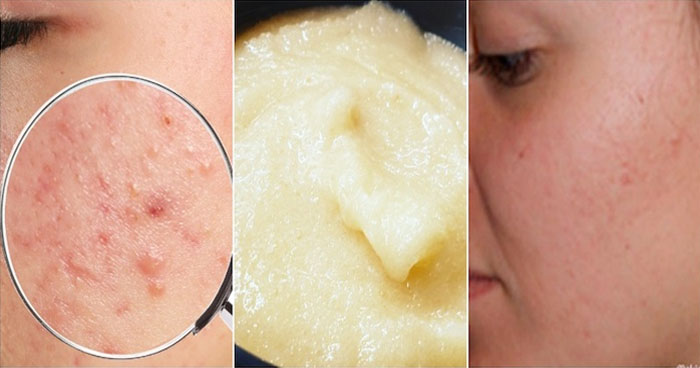 5. Extract fresh aloe vera, freeze it into ice cubes, and massage all over face. Leave the fresh gel overnight and repeat this every night.
6. In ¾ cup of tomato juice, squeeze in half a lemon. Add 5-6 mashed mint leaves and a pinch of black salt to taste. Drink daily morning and evening for a week to cleanse toxins from the body.
7. Yogurt+Saffron+Besan Anti-Tan Face Pack: This face pack not only fades away blemishes, with regular use, it can clear stubborn tan as well.
8. Masoor Dal Face Pack: To even out your skin tone, use powdered masoor dal mixed with raw, cold milk. Make a fine paste and scrub your face with this mixture in gentle circular motions every morning. Rinse off with cold water. Doing this daily will not only even out your skin tone but will get rid of dead skin cells and give you a glowing complexion.
9. Squeeze the juice a ripe tomato and a lemon and massage onto face. Wash off with cold water when dry.
10. Banana Peel: After eating the banana what do we do? Throw the peel away? Well, it's a shame that we throw the banana peel away. The banana peel is said to be rich in potassium and antioxidants, and has even more nutrition than the fruit! The trace minerals in banana peel soothe inflammation and calm acne breakouts. Just rub the inner part of the banana peel and leave it till it completely dries or 15 minutes, and wash.
Most importantly, our diet plays a huge role in determining skin's health and it's important to nourish your body from within. Follow a nutrient-dense diet which would give skin important nutrients to stay health and antioxidants to repair cellular damage. Apart from drinking at least 8 glasses of water every single day, check out the meal plans on the Rati Beauty diet that is full of nutritious meal plans.