I'm a subscriber to the MAC mailing list and when I got this email,  I was so eager to post it on here!
Manish Arora, the Indian designer has a limited edition of MAC cosmetics now available in the UK from the MAC website and Harrods in London. I'm not sure about availability worldwide, but all products are sold out on the US MAC site.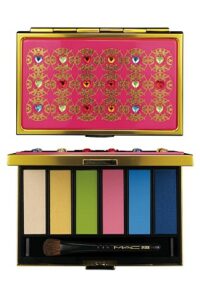 The collection consists of 4 items – an eyeshadow compact, lipstick (2 colours available), lipgloss (2 colours available) and powder blush (again 2 available in 2 colours).
This six-shade eyeshadow palette features brilliant colors represent Arora's flair for fashion. They may look a little "scary", but they're all very wearable. And the packaging is brilliant! Go to the M.A.C. website to see the palette closed. Gold and pink with tiny jewels set into little flower bursts!
So, what do you think? Would you be proud to pull one of these out of your handbag?