Sun Flower Lovers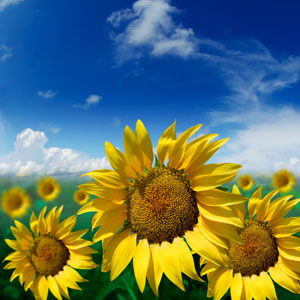 Well people in our first part, we have told you some important features of the red rose. Now our second part is for those who like sun flower.
In this way sun flower admirers will know about some other qualities of this flower and some of their own personality characteristics as well.
Well those who are fond of this flower like to be loved, means when they love people but, they want the same love in response. They are peace loving people and like to have good friendship with other people. These are the people with the nice aesthetic sense.
They really appreciate good music and dance at times. They are jolly people and want to feel fresh & lively most of the time. Most of them have got the humors attitude. But their bad habit is that they are bit unpredictable, mean can't be same all the time. They can have dual personality. They can easily manage both at a time, without mixing with each other. They hate restrictions. They can't bear monotony in life for long time. They want variety after some time. They rarely do the true love, most sun flower have got the flirty nature. Either man or woman, sun flower lovers may not be so passionate and touch about their love. This is because of the reason that they are realistic people and do not live in the world of dreams. However, mostly sun flower lovers prove their self as good life partners. They are keen and conscious towards selecting their spouse. They are not as emotionally but realistic.
Like most people in the world, they love to fly at the top of their height. They usually easily overcome on their bad circumstances also they can be good businessman. They mostly do new experiments and they always hope for the positive results.
They nicely manage their finances and are careful in spending money. They are attractive in their personalities and mostly other people like them. They have ability to talk carefully and gently, that's why they easily make their place in any situation. They also fulfill their assigned tasks very carefully.
They can be very good speaker and good writer, as they know how to express their self.