Karachi – the glitzy city of style and glamor and all that often sees happy hours when it comes to Fashion launches and events. One such event held recently was the launching ceremony of Shahla Rahman's latest collection, in Karachi.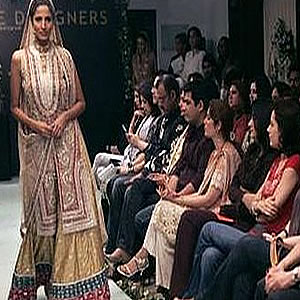 Her latest collection showcased formal and bridal wears. The formal collection was a bold compilation of western cuts and styles while the bridal wear perfectly indicated the exceptional Eastern blends and wondrous designing.
Many of the dresses in the formal collection comprised of ankle-length kameezes designed in a flowing unstructured manner, worn over fitted-capris or Dhaka pants. The designs combined with silk, net and lace and chiffon with jamawar, along with layered chiffons were seen in abundance. Mostly, the formal dresses were in monochromatic schemes with fawn, orange, pink, turquoise, black and deep peach, ruled with Minimalist embellishments and chic and trendy cuts.
The bridal wear followed the traditional fashion lines. Designed and patterned in striking combinations such as fuchsia with grey and silver, fuchsia with white and yellow, green and peach and emerald green with royal blue were breathtakingly beautiful and spoke well of Shahla's aesthetic fashion sense.