In a recently held Ensemble fashion extravaganza, not a single Dupatta featured as Pakistani fashion beat. Imran Ahmad opened the show and Rizwan Beig closed it with Sadaf Malaterre. Young guns Kamiar Rokni and Meheen Karim were also there to make the event more glamorous. All these designers have their renowned names in the style and fashion industry of Pakist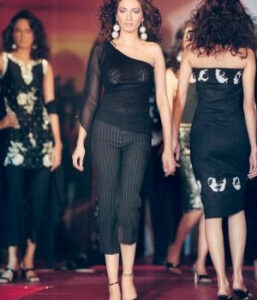 an.
Traditional outfits were not there; instead of them, skirts, pants, ethnic funk, long flowing Kameezes were there to represent Pakistani Fashion. Actually it was an extension of the additional room of Pakistani fashion. These people have turned shalwar to sleeker, Capri, and trousers etc. It seems that fashion is moving towards a liberal way as kameez is also turned into liberating tunics, etc. It also shows that modern women are not fancy to hide her behind the veil. Fashion no doubt brings our women towards a new scenario. Today's women is bold and she knows that how to manage herself by all means.
This might be the reason of introducing so many designers modern collection at the Ensemble extravaganza. There were floaty dresses for evening wear, pants with smartly tailored tunics for a bold look, at work place particularly, and ethnic funk for party & night functions wear etc. now-a-days women have so many things to do and places to move; so it's good to carry them accordingly.
So designers are there to give you the desired outfit according to the occasion, so that you will look up-to-date.