LUX style Awards being the top class Fashion Awards of the Pakistani Fashion Industry always brings you the best Fashion & style statements.
The fashion nominations for the eighth LUX Style Awards were announced in Karachi by the LUX Style Awards office this week. The fashion jury, comprising editors and fashion writers of leading newspapers and fashion magazines, decided on five nominations each for the nine fashion categories.
The criteria for the nomination selections was set keeping in mind output and quality of work during the calendar year 2008. The jury was asked to view portfolios as sent by various nomination hopefuls and draw on their knowledge of work as seen by them all throughout 2008. The work of many aspiring and young fashion designers, make-up artists, photographers and models was discussed and analyses.
The 2009 Fashion Nominations are a mix bag of exciting raw talent, very bankable fashion industry stalwarts like Arif Mehmood for Best Fashion Photographer, and Tariq Amin for Best Hair and Make-up, whose outstanding work throughout 2008 won them nominations slots after a long gap. Others like Abdullah, Ameer Zeb Khan, Neha Ahmed, Fayeza Ansari, Khawar Riaz, Deepak Perwani, Sara Shahid at Sublime, Sonya Battla, Rizwan Beyg, Sana Safinaz and Umar Sayeed almost write themselves into the nominations each year on account of the excellence of their work, their high output and visibility in print and on the ramp.
The first level of voting was carried out in a meeting in Karachi last month where all the eleven-jury members attended a day-long session. Those present were Aamna Haider Isani, Andleeb Rana, Kaleem Ahsan, Madeeha Syed, Mariam Mushtaq, Moeen Pal, Muniba Kamal, Raheel Rao, Tehmina Khalid, Zahra Hameed and Zurein Imam.
The second tier of voting takes place next month when fashion industry designers, photographers, models, and make-up artists from across Pakistan select winners from among the announced nominations. At that stage, there are separate juries for each of the four disciplines of design, make-up, photography and modeling.
The LUX Style Awards for excellence in cinema, music, television and fashion are an annual awards event that aims to elevate and recognize Pakistan's budding and established creative arts talent across the country.
8th LUX STYLE AWARDS
Fashion Nominations 2009
1. Fayeza Ansari
2. Nadia Hussein
3. Neha Ahmed
4. Noore Bhatti
5. Rabia Butt
Best Male Model
1. Abdullah Khan
2. Ameer Zeb Khan
3. Arsalan
4. Iffi
5. Rizwan Ali
Best Fashion Photographer
1. Arif Mehmood
2. Deevees
3. Guddu Shani
4. Khawar Riaz
5. Rizwan ul-Haq
Best Hair and Make up Artist
1. Akef Ilyas
2. Guddu Shani
3. Khawar Riaz
4. Munazza Rizwan
5. Tariq Amin
Best Emerging Talent
1. Aaminah Sheikh (Model)
2. Adnan Pardesy (Designer)
3. Fahad Hussain (Designer)
4. Fayyaz Ahmed (Photographer)
5. Nisha Butt (Model)
Best Menswear Designer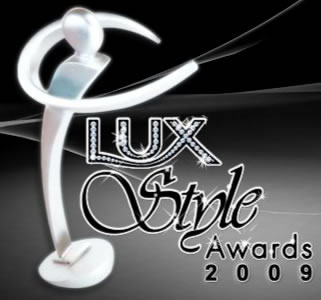 1. Amir Adnan
2. Deepak Perwani
3. Ismail Farid
4. Kuki Concepts
5. Munib Nawaz
Best Retail Brand
1. Crossroads
2. Ego
3. FNK Asia
4. Generation
5. Stoneage
Best Pret Designer
1. Iman Ahmed at Body Focus
2. Maheen Karim
3 .Sadaf Malaterre
4.Sara Shahid at Sublime
5.Sonya Battla
Best Couture Designer
1.Bunto Kazmi
2.Kamiar Rokni
3.Rizwan Beyg
4.Sana Safinaz
5.Umar Sayee
Judging, deciding and then nominating the first class hit among many good are not as easy, particularly when it comes to Fashion Industry. LUX Style Awards every year presents the great opportunity in making your opinion about the best one.