Fashion is a trend that has fast become an epidemic in Pakistan. A pre-requisite to this necessary fashion epidemic is beauty. Pakistan has fallen prey to the international phenomenon of no compromise on beauty. Beauty is the baby step one needs to take to be accepted in the Pakistan fashion world.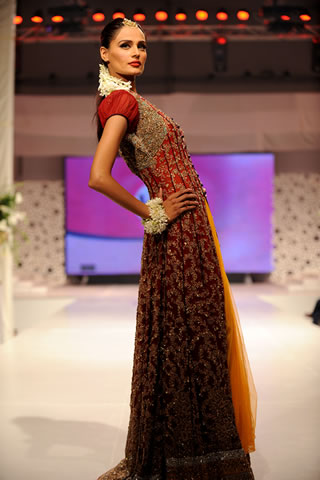 Beauty is not all about pretty faces or about fair and lovely; Pakistan fashion has little more depth than that. Beauty in these new times of extreme fashion mania in Pakistan is more about self maintenance. In Pakistan Beauty is mostly wrongly interpreted as physical appearance and looks solely. Beauty is more of a characteristic which gives reason for appreciation. Hence beauty is an excuse to experience pleasure. Beauty is physical well being combined with emotional well being topped by mental well being. Beauty is only complete once well being has been achieved in all dimensions.
Fashion is a vast arena. Fashion doesn't confine imagination. Fashion is not conformed by any one definition of fashion. Fashion is beauty one step ahead. Fashion blends beauty with style and trend. The perfect blend of these components and voila you have a fashion diva at your disposal. Fashion and beauty are so inter connected that fashion and beauty cannot be separated from one another. In Pakistan beauty and fashion have been highly influenced by culture. Therefore it is hardly surprising that in Pakistan fashion and beauty have become heavily commercialized.
Commercials in Pakistan have created a false sense of 'ideal beauty'. This ideal beauty is being sold to the masses in Pakistan in the name of conformity with the Pakistan fashion. We live in times where consumer is being trained to endorse fashion and beauty as part of their everyday routine.
However the wrong assumption is how beauty and fashion cannot be cheaply acquired in Pakistan. Neither beauty nor fashion requires heavy cash spending in Pakistan. Both fashion and beauty can be conformed to at economical rates even in Pakistan.
Here are some easy tips to follow at home to keep your beauty rejuvenated. There are many beauty tips that are home based. Honey is a regular home product; try using honey everyday for fifteen minutes. When you will wash your face your skin will young and glowing. See beauty is not exactly as difficult as they make it out to be.
Beauty compliments fashion; fashion compliments beauty.
Fashion is not the Hercules we make it out to be. It is as every day as beauty is. Consider beauty a fore-runner to the world of fashion and style.