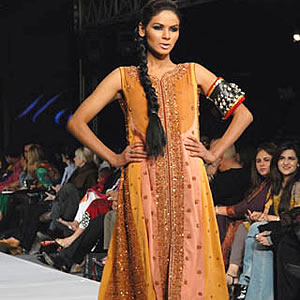 Pakistani fashion designers have always been inspired by shalwar kames since, time immemorial and have tried to fuse it with various colourful styles and variations. 2010 fashion trends in Pakistan offer long embroidered taftan, kurta shirts with tights, tang pajamas, trousers and patyala shalwar.
2010 fashion trends offer flair, colourful embroideries and styles in various modes of Pakistani dresses. Taftan is another latest addition to the line of fashion trend. Many Pakistani fashion designers like Maria B, Mehdi, Nomi Ansari etc have introduced this new and trendy style in their boutiques. Their prices range from Rupees 3000 and above.
Patyala Shalwars with short shirts and beaded bags are hit in Pakistan which is more of a Deepak Perwani line. 2010 fashion trends offer Gul Ahmed, Al-Karam, as well as a few other Pakistani Designers who have unveiled a new looks at the beginning of the year. Long straight shirts with tights or tang pajamas are in for Pakistan.
Similarly, if you are a kurta fan, then a little light coloured embroidery on sleeves or neck would bring the best in you. So go for a long stylish kurta with perfectly matched trousers and be the one to set a comfortable fashion trend. All kinds of straight kurtas from chiffon, georgette, koshiboo, crepe, charmause, silk, staple, cotton, blended fabrics in dyed, print and embroidery form are available in market. There are many boutiques which are doing table printing, spray painting, block printing, rotary printing, flok printing and screen printing along with hand and machine embroideries on kurtas. The hand embroidery of resham work, dabkaa work, cutwork with beats, Sindhi embroidery and many other stitches on kurtas are the latest fashion trends of 2010