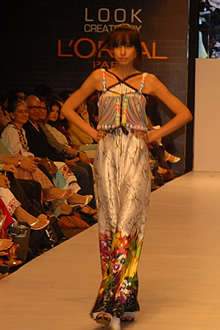 Fashion Pakistan Week 2010
Gear up for an Exhilarating Ride!
By Erum Adnan
The hottest show in town is soon to unleash the raging fashion frenzy. The glitterati, socialites and the high and mighty of the fraternity, who have ruled the ramp since time immemorial, will gather once again to behold the truly talented veterans and the next gen. Yes, brace yourself for the glorious and magnificent Fashion Pakistan Week 2010!
The roaring success of the previous Fashion Week brought many designers under the fold of Fashion Pakistan, the fashion design forum, making the upcoming show a mammoth presentation of high style and extreme talent. Let's hear it from those who will ignite the runway with their dazzling collections.
Sanam Agha
"Aiming at emancipation, my collection is all about breaking the barriers of social expectations that fetter the classic eastern woman. It's about giving her the freedom to soar high above and identify her true worth.
I expect everyone to have a good time at the show and look at Fashion as a form of art!"
Favourite Designer: Karl Lagerfeld, Rizwan Beyg and HSY.
Yasir Mirza
"I shall be showcasing the Raja Maharaja prêt line, but, with a twist. Gaining inspiration from the Mughal era, I have added a new touch to the outfits of those times. It will something new and unique.
"The last show was very good and I expect this one to be good as well!"
Favourite Designer: Rizwanullah
Nomi Ansari
"I will not disclose anything about my collection. I want it to be a surprise, something for the people to see on the day of the show only. I'll just give a hint that this time it constitutes attire that is wearable. Let there be some mystery.
"The first show went very well and I expect this one to be even better. I expect a lot more from the event in terms of business!"
Favourite Designer: Faiza Samee and Sonia Batla
Samar Mehdi
"My collection comprises of eighteen outfits and this time I will be showcasing menswear as well. While planning my collection I gained inspiration from a project that I did fifteen years ago when I was in college. I have revamped it making it in sync with the trends prevalent in the present era. The silhouettes are very western with an ethnic touch.
"My expectations from the upcoming show are very high. I am a senior member and I have great hope in the council and the designers' fraternity. I expect a very good show and a great response!"
Favourite Designer: Maheen Khan
Faiza Samee
"My collection is still very much in the initial stages. It is in the process of being planned. It will be the autumn 2010 collection and I am planning to divide it into two or three segments. It will give the viewers, the flavour of the work I shall be doing later in the year. I work best under pressure so let's see what evolves in the end.
"I am a very positive person and my expectations are positive too. I believe we have a very strong regional market and I will be showing something our people, our region."
Favourite Designer: I cannot name any one particular designer. All are very strong in their own right.
Adnan Pardesy
"I will be showcasing Autumn/Winter 2010 collection. I am working with different textures and a lot on construction.
"I hope the upcoming show will be bigger and better with more designers, coverage and a lot of excitement!"
Favourite Designer: Fahad Hussain in the new lot and Maheen Khan, Deepak Perwani and Sonia Batla among veterans.
Sanam Chaudhri
"My collection features pieces dyed both chemically and naturally. Some have been patterned with the use of wax, starch and running stitch. As a result, each piece stands apart for its uniqueness. Such work cannot be wholly replicated, so my clients can rest assured that what they select is one-of-a-kind.
"From the show I expect to acquire international stockists and gain respect and appreciation of the fraternity."
Favourite Designer: Maheen Khan, Rizwan Beyg, Bunto Kazmi and Yousuf Bashir
"I am presenting three different lines in Fashion Pakistan Week this year – AV Official, AV Official for Men and AV Cocktail Gowns. The first one is ready to wear prêt line specifically for the woman of today. The second one features menswear both casual and one that can be worn in the office. Both lines are highly contemporary and casual and the best part is that they are especially designed for the masses, hence highly wearable. The third one refers to AV signature line and has a lot of shimmer and shine on pure crepes, chiffons, brocades and velvets. I have used a lot of Swarovskis and crystals. All in all you can say that the Aeisha Varsey line denotes all then aspects and occasions of life.
"Fashion Pakistan floated the idea of a holding fashion weeks in Pakistan hence it is the pioneer. Therefore, Last year the designers did an amazing job, so my hopes are very high. I always concentrate on good designing, good clothing and excellent quality product. This is a great platform for all those belonging to the fashion industry. Here the senior designers and the novices are all under one roof and can access each other. Due to such events, the international press, and electronic media will generate positive vibes about Pakistan and the buyers will also come. It's high time that we change the image of Pakistan with art and style!"
Favourite Designer: Last year all the designers did a very good job, especially the senior designers. I respect all designers and each and every one of them is perfect. I wish them all success. My all time favourite designers are Rizwan Beyg and Sonia Batla and Umer Saeed. Rizwan Beyg stole the show with his creativity and aesthetic sense. This year Umer Saeed will also showcase his collection. I am one of his great admirers and I think he is the guru of fashion industry.