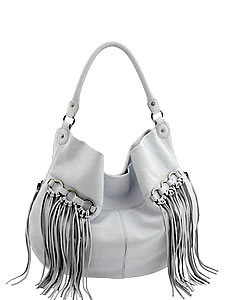 Gone are the days when Pakistani ladies had to carry a traditional black back or a small wallet. Say hello to stylish and smart fringe bags which are definitely in and are a must item of summer fashion accessories.
Summer fashionable fringe bags seem to be the best catch in town, and these bags are synonymous of their elegant and timeless. Whether you are leaving for office or for college in the morning, these fringe bags can prove to be the best accessory for seasons to come and is available in variety of colours and styles.
These fringe bags are found in suede, leather and other material. If you go through Jimmy Choo's latest line of handbags then, Tita shoulder bag is a perfect example. The Tita manages to be both posh and bohemian at the same time. The pouch shape is simple and shows off the complexity of the materials.
Pakistani fringe bags can be worn on formal functions and party wears. It is a part of an evening summer accessories which works incredibly well as a minimalist structure for the rest of this delicate purse to rely upon. These bags often come with optional long chain handle, art deco design, kiss-lock closure and single interior slip pocket.
Studs on Pakistani fringe bags are a big trend right now and have been for years, but in combination with the fringe this is starting to look like a saddle bag. This effect is only exacerbating by the braided trim. All in all there is a fringe bag for a very specific customer with a very specific look in mind and their prices ranges from Rupees 1500 and above.
If you are brand conscious and really looking for a popular fringe bags then check out, white fringe bags by Rebecca Minkoff as she takes the hobo from its humble roots to status symbol with trailing fringe on this white leather bag. Also try out the fringed leather messenger bag across your body for the "It" look of the season. You can also go for the fringe trend in a pretty colour to spice up your neutrals, like in green, blue, pink, yellow and you name it.