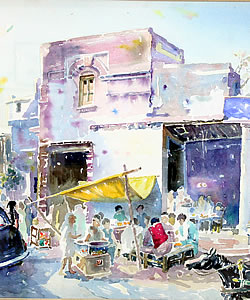 Artist has shared a timeless relationship with colours and canvas. He knows the art of playing with colours as they have the power to uplift the sorrows of life and open up a world of joy. Recently, held 'exhibition of water colours' held at Coopera Art Gallery, included the works of eight prominent artists.
These artists included Abdul Hayee, Dr Ajaz Anwar, Khalid Latif, Mahmood Alam, M.Shafique, Nazir Ahmed, Pirzada Najamul Hassan and Saeed Ahmad. The exhibition presented 63 works on different themes ranging from architectural beauty of Lahore to wild life, forest and portrait paintings.
Dr Ajaz Anwar, is a famous painter of Pakistan. His paintings exhibited at Coopera showcased old buildings of Lahore city. The painter said, "I highlight the parts of Lahore that must be preserved because you never know, if these buildings are going to be here tomorrow or not." Similarly, kites are almost a part of every work.
M.Shafiq's paintings were based on forest impressions, architectural beauty of Badshahi Mosque, minarets and village life.
Saeed Ahmed Khan, is another dedicated artist who has been painting for the last thirty years. He is a trained artist from NCA and Alhamra Arts Council and currently working as a painter in Punjab Wildlife Department. Most of his work dealt with local dessert life and wild life like sabar and birds of rare kind.
Paintings of Mahmood Alam also received an appropriate response as they mainly highlighted the landscapes and cultures of Lahore.
Similarly Khalid Latif, another talented artist of Pakistan and knows the art of water colouring well. Most of his paintings showcased green mountains, children and people crowded in village lanes and children playing in streets.
Another artist whose work on forest has matured over the ages was Pirzada Najmul Hassan.
Similarly the paintings of Abdul Hayee and Nazir Ahmed also received an welcoming response.
The exhibition was inaugurated by Dr Shaukat Mahmood, HEC Professor, renowned cartoonist known as (Maxim) art historic and critic. He appreciated the efforts done by Coopera Art Gallery in promoting the high skills of artists, art lovers and students.
The exhibition was attended by art lovers, students and teachers and people from all strata of life were present on the occasion. Saeed Akhtar, the legendary painter also attended the exhibition and appreciated the paintings of all the artists.
Coopera Art Gallery has published a book, 'Art in Pakistan-Traditions and Trends' which covers the contributions of twelve leading artists and one art critic. The book was presented to well known water colour artist Dr Ajaz Anwar and legendary painter, Saeed Akhtar and Curator of the Coopera Gallery, Muhammad Javed.
Overall, the exhibition of water colours received a positive response from all sections of society. It would remain open till June 19, 2010.