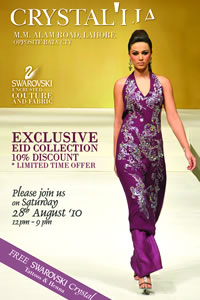 All those Shopaholic ladies out there get ready for another shopping bang for Crystal'lia is launching its stunning Eid Collection of prêt, couture and loose fabrics with 10% Discount on MM Alam Road opposite Bata City.
Created by J&S Entertainment, the event is especially held for Eid Festival with a blasting limited time offer of 'Free Swarovski Crystal Tattoos & Henna'. The Exhibition will start on Saturday, August 28, 2010 at 12:00pm till Sunday, August 29, 2010, 9:00pm.
Crystal'lia is the only brand in Pakistan that acquires the best crystals in the world from Czechoslovakia and the renowned Swarovski crystals to encrust them locally using imported machinery that infuses different size and shapes of crystals on to fabric that may be used in traditional or new age couture.