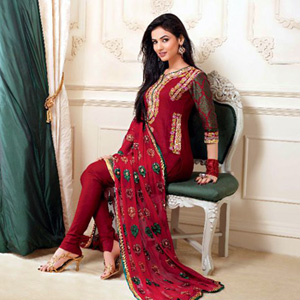 Gul Ahmed is making fashion headlines with an extravagant launch of its latest winter collection 2010.
The biggest textile brand of Pakistan, Gul Ahmed decided to launch their latest collection with more style and glamour. Frieha Altaf, who has recently signed on to manage the brand is off course the mastermind behind the concept.
The launch was undoubtedly a glamour-filled musical fashion treat. As the music started playing in full blast, the models stepped out one after another, dolled up in Gul Ahmed ready to wear couture.Faiza Ansari was the first to strut in her new glamorize fashionable hairdo. Classy diva has taken a drastic makeover, and chopped her locks short and dyed them blonde. With her hair elegantly slicked back, she walked around the store with perfect confidence.
Fauzia looked freaking awesome with those tousled tresses. She did justice to her clothes as she walked gracefully and slowly around the room. Ayyan was looking hot with those sexy lady gaga heels. The Veet supermodel, Saima did a fantabulous job as she strutted with an enchanting smile on her face.
The supermodel, Iraj was the lady of the evening, with her big-time pretty smile; she walked around the room interacting with people she knows.
The clothes were incredible and simply out class. The dark and bold shades of maroon, blues and browns seemed perfect for winter. There was also a bright floral collection in pinks and peaches for zesty fashion divas, who always like to stand out.
The ready to wear collection was extremely well-stitched with some innovative style-loaded designs. The collection saw a shift in the trend as well. The length of the kameez on some clothes has gone up. Hmm does that mean short length kameez is coming back again?
All in all, the evening was a perfect little fashion ceremony, with Gul Ahmed being the fashion honcho. The crowd was also interesting. The corporate and the fashion world were both enjoying the evening together.