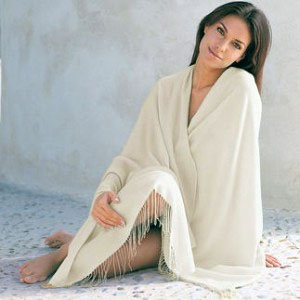 Winter shawls are the fashionable accessories that everyone would love to wear in winter season. Shawls are not only available in colourful variety but also consist of friendly and warmly fabrics.
Shawls are handy, warm, and an incredible fashionable accessories for men and women. They make you look chic and comfortable. Whether you are attending a formal office meeting or you're celebrating the holidays with the family, this will accent your style like no other.There are many kinds of winter shawls and scarves are available in market. They are available for women and girls in elegant, warm and winter colours in black, ivory, purple, burgundy, green, orange, red, pink, yellow, peach, navy and dark brown which matches with almost any outfit. There are all kinds of shawls for day and evening wear.
These are available in pashmina, paisley pashmina, silk chiffon and velvet shawls etc. These pashminas are delightful with their warm beauty, amazing weaves, warm protection and trendy style. Cashmere winter shawls can be embroidered cashmere shawls and hand painted shawls require the same care as any other shawl.
Fashion shawls in Pashmina come generally in solids and in paisley designs and are colourful. Cashmere shawl come in solid and plaids for women and men. A quality winter shawl is a unique gift for any occasion a birthday, wedding, anniversary, Christmas, Mother's day, Father's Day, Corporate Gifts too.
Their price ranges from Rs 700 and above! A winter shawl is that one piece of accessory you wouldn't mind wearing all day until the end of the season. Make sure you always select perfect winter shawls to keep yourself warm while still looking fashion fantastic!