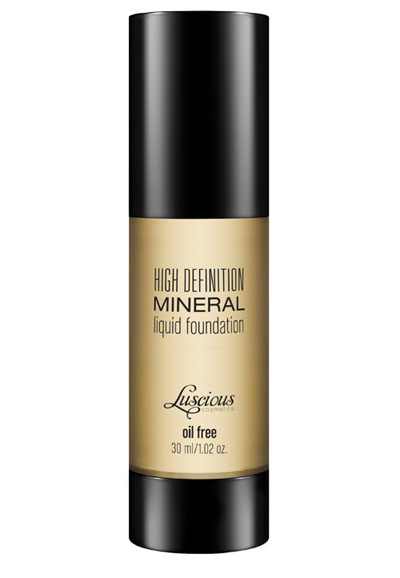 Luscious Cosmetics introduces a revolutionary new innovation to its acclaimed and popular makeup range, through the launch of the "High Definition Mineral Liquid Foundation". Mineral makeup technology has dominated the international cosmetic industry for the past two years, and Luscious Cosmetics has translated this technology to cater to South Asian skin tones by formulating a liquid foundation which promises mineral makeup benefits with high definition results.
Luscious High Definition Mineral Liquid Foundation is a silky, lightweight foundation made from pure minerals with all the benefits of a skincare treatment. The soft-matte formula is infused with minerals, vitamins, and deep sea water for light weight, yet flawless coverage that lasts all day. The product contains no oil, talc or fragrance which makes it suitable for all skin types, including sensitive skin.
Luscious High Definition Mineral Liquid Foundation has been created to provide all the benefits of mineral makeup without compromising on coverage or staying power. Continued use will improve skin texture and radiance while instantly minimizing pores and imperfections for a high definition finish. This is one of the world's first liquid foundation formulas to successfully merge mineral makeup benefits with high definition performance specifically for a diversity of South Asian skin tones. Available in 5 shades, the Luscious High Definition Mineral Foundation is priced at PKR 1175 and packaged in a sleek new bottle with an airless pump, an anti-waste solution to the common spills associated with liquid makeup.
Speaking about the launch of their latest innovation, Creator Luscious Cosmetics Mehrbano Sethi says: "I have been watching the mineral makeup revolution for some time now, and while I was very intrigued by the benefits of mineral foundation as opposed to traditional foundation, I personally found mineral powder formulas to be lacking in good coverage and performance. I set out to formulate a liquid mineral foundation that would not compromise on coverage, staying power and performance, and that would be specially suited to the warmer South Asian skin tones. The result is everything I hoped it would be, the perfect combination of a skin-friendly foundation with high definition results!"
From its acclaimed launch in 2008, Luscious Cosmetics has been driven by its belief in innovation, making pioneering advances for the growth of the beauty industry in Pakistan while reinforcing the brand's interactive philosophy through its constant product releases, digital, print, outdoor and broadcast activities. Luscious Cosmetics' commitment to beauty is always consistent with global cosmetic trends, constantly translating these into the South Asian context. Indeed the latest manifestation of this dedication to bring international standards into a local context can be seen with the introduction of it High Definition Mineral Liquid Foundation and in general, the Luscious mineral make up line, initially introduced in October 2010 with Precious Metals Pure Mineral Eye Shadows.
In addition to the above, Luscious Cosmetics has grown to offer a complete range of colour cosmetics, a revolutionary sun-protection product and beauty brushes. The range is versatile and constantly expanding and to this end, last year Luscious Cosmetics introduced Lip Couture, the brand's tribute to high fashion along with a range of eye and lip pencils, a complete series of diamond finish nail lacquer, ultra shine lip glosses, an incredible lash mascara, a 12 piece deluxe brush set and an instant brightening concealer along with the exclusive 'Twilight' limited edition kit.
Don't miss out on the Luscious Cosmetics High Definition Mineral Liquid Foundation, available at a store near you!