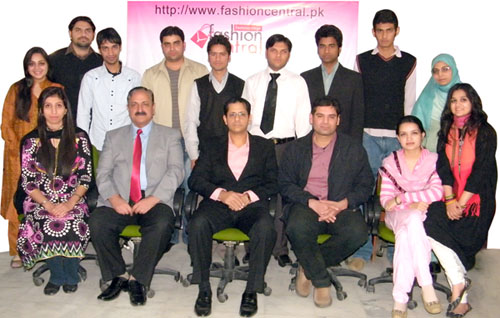 Within the first two years of its birth, Fashion Central.pk is not only up and running, this online Fashion world magazine has established itself as a trail blazer. Indeed the 730 days journey has been loaded with enthusiasm and although there are still millions of kilometers to travel, the team at FashionCentral continues to traverse and move forward without any fear, adequately supported by the pioneering spirit of the founders Shoaeb Shams and Annie whose passion is on the up, at an amazing pace.
Team work has been the hall mark, all through, which helped in curbing many fears. Of course, at the beginning the key question was how to be a cutting edge in technology. Then there was the scare of competition, global and national and data showed that several online fashion magazine attempts had faded with adverse results, becoming unsustainable ventures.Nowhere in sight and reach was the magic wand that could facilitate quick success and related rewards. Much thought brought forth the realization that, only commitment would be the major tool that could mentor us to the fold of acceptability amongst the eager and ardent viewers residing globally, and ultimately they were the ones who provided boost after boost, as we endeavored to reach out to them providing sufficient updates and enlivened them with outstanding stuff relating to the fashion world.
The beginning was a bare trickle with two youngsters, Saher and Wasif, on the wheels; navigational meters displayed zero viewers and no revenue. With the inclusion of Khawaja Pervaiz Saeed, a seasoned journalist and an experienced writer, a stimulant was added and the whole scenario became creative and spicy.
Progressively the pieces of the puzzle started falling into place, and the major challenges were technology, traffic and search engine rankings. In this, E2E Solution Providers, the mother company, played a remarkable role. Full of technology gurus, it ignited flexibility, knowledge and depth.  This made it possible to be flexible and always on the cutting edge of technology. Result was development of a proprietary Content Management System, which turned out to be far superior to any other in the market.
Fashion Central became Search Engine friendly, adequately strengthened by an accomplished technical team capable of handling all needs that arose.
After two years the Fashion Central team has grown to almost 25, with many capable ones still waiting in line for an opportunity. Achievement of over 4 million page loads a month is a tribute to the efforts of affectionate team members like Ali, Saher, Haseeb, Ishfaq, Sana, Afshan, Imtiaz, Tahir, Faraz, Usman And the content writers group, Saba, Lubna, some in house and others Madiha, Humera, Saima, M. Amin, Junaid, Nazia, Quratulain, Irum, Sobia, Abdullah, Marium, Saiyna, Usman operating from their own homes.
In the past two years we have published numerous fashion shows, profiles of major designers of Pakistan and the fashion weeks held throughout the country and in the process carved a place for ourselves in the competitive fashion industry.
Fashion Central is visited from over 175 countries of the world and all the major cities of Pakistan (where internet is available, so are we). We are on e place on the internet which shows the positive side of Pakistan to the world. We are all about showing the strengths of Pakistan.
With a growth of almost 20% month on month Fashion Central is becoming an institution geared for the future, with a solid foundation comprising of a well jelled team and solid technical framework to meet manifold future challenges.
2011 targets e-commerce activity with an aim to become the premiere online retailer, providing a new avenue and a new revenue stream for the fashion industry of Pakistan and opening the doors to a global market for them.
Slogan for 2011 reads "FASHION AT YOUR CLICK"!