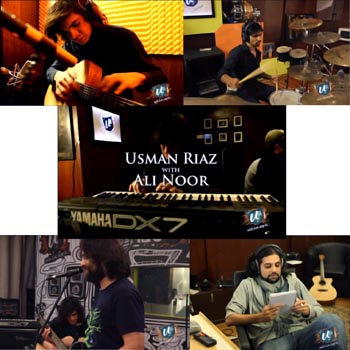 Following two musically diverse episodes, Ufone's exciting televised youth music platform, Uth Records, is all set to introduce its third featuring artist on 04th March 2011, Karachi based singer Usman Riaz.
Through this televised platform and as illustrated by the first two episodes with Jumbo Jutt and Yasir & Jawad, Uth Records aspires to show how talented young musicians from across Pakistan can thrive in a professional music environment with guidance from a selection of Pakistan's most gifted musicians.To this end, with episode three of Uth Records, the team introduces the multi talented Usman Riaz featuring top Pakistani musician, Ali Noor from Noori.
Coming from a musically-literate and a creative family, this young 20 year old musician's passion has been music since an early age, particularly within the classical genre. At Uth Records, he will be performing 'Hum Tum' where he will be singing, playing the piano and the guitar! On his work with the Uth Records team, Usman Riaz has said: "I am looking forward to performing the piece we wrote. We have never performed it previously and I am excited to hear how it sounds, and then play it live…They [The producers] gave me compete freedom to write whatever I wanted. They helped fix lyrics to my melody and as for the structuring of my song they helped me pick and choose what fit the song the best after I came up with the variety of the parts."
Speaking about their work with Usman, producers of the project, Gumby and Omran Shafique of LJP Studios have said "Usman's talent and drive for excellence in music is what every musician and the music industry as a whole should be proud of. His passion for music can be determined by the amount of effort invested in each and every project he undertakes. Whether it's him dancing, playing guitar or then playing the piano, it seems like whatever he puts his mind to he simply excels…His technique as a guitar player is again not what many guitar players play. We are here to further his music at all levels because his contribution to music can help our industry grow by leaps and bounds"
Asif Saeed Malik Head of Marketing Communications has said "Usman Riaz is a great example of how multi talented Pakistani artists can be. He has been making music for many years now and with Uth Records we are looking to help introduce artists like Usman to other more established musicians to help better his standing within the music industry in the best possible ways."
Directed by Zeeshan Parwez, Uth Records episode three will be airing on ARY Digital, HUM TV, Oxygen, TV One, PTV, Dawn, ATV and G Kaboom starting 04th March.
Look forward to a new artist and a brand new episode next week!