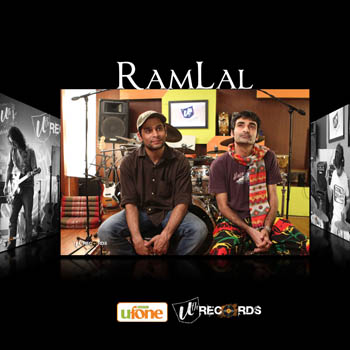 Ufone's critically acclaimed televised youth music platform, Uth Records, is all set to conclude its First Season by introducing its sixth and final featuring artist on 01st April 2011, Lahore based band RamLaL.
Through the five episodes of Ufone's Uth Records, Pakistan's underground youth showcased diversity of sound and genre including: rock band Jumbo Jutt, Pushto folk artists Yasir & Jawad with Wali, instrument virtuoso Usman Riaz, the blues inspired Natasha Ejaz and pop artist Ather Sani.
With episode six of Ufone Uth Records, the team introduces the band RamLal. Consisting of Mohammad Fazli (Lead Guitar, Vocals) and Muhammad Agha (Rhythm Guitar, Vocals), the band will be performing their single 'Naughty Boy' at Uth Records.On their work with the Ufone's Uth Records team, RamLal has said: "Ufone's Uth Records producers are skilled individuals; working alongside them has been a great experience and was a lot of fun."
Mohammad Omer, Head of Marketing Operations & Brand Activation Ufone has said "RamLAL have a fresh and unique Uth sound, bringing that added diversity to the platform for a fun finish to our debut Uth Records show."
Speaking about their work with RamLal, producers of the project, Gumby and Omran Shafique of LJP Studios have said "These guys are a bit unconventional and they bring a tongue in cheek rock n roll attitude which we loved. We really liked the direction in which these guys were taking the music. It's a very punk rock song. They had interesting ideas about having a shaadi band come in and record some parts and we'd never tried anything like it, but it really paid off in the end.  These guys are passionate about the music and just a little bit crazy. A great combination!!"
Directed by Zeeshan Parwez, Ufone's Uth Records episode six will be airing on ARY Digital, HUM TV, Oxygene, TV One, PTV, Dawn, ATV and G Kaboom starting 01st April 2011.