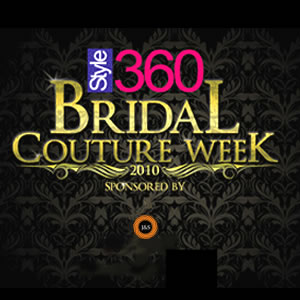 Style 360 Bridal Couture Week with its tagline 'For a Perfect Wedding' is back with a blast in the city of light, Karachi.
Weddings in Pakistan have evolved from being a traditional family event to being a grand mélange of traditional values weaved with love and happiness into modern fantasies of being perfect, from jewelry to wedding dress to the main event, everything has to be perfect. And what could be more perfect then Bridal Couture Week to give your wedding dreams a form of reality.
After the spectacular debut of Style 360 Bridal Couture Week 2010 in Lahore with a tremendous response from buyers and visitors, Karachi is all set to host another glamour-packed episode of Bridal Couture Week in April 2011. According to a press conference, the Bridal Couture Week 2011 Karachi will be scheduled between April 22 and April 24 at the Expo Center unleashing the bridal collections of 18 to 20 fashion designers. Apart from this, the general public too will be welcomed this time to participate in various activities taking place at this grand event.
The designers who enthralled last year at Bridal Couture Week 2010 Lahore were Nomi Ansari, Mehdi, Ali Xeeshan, HSY, Asifa & Nabeel, Hoorain, Nargis Hafeez, Lajwanti, Amna Ajmal, Nilofer Shahid and Shafaq Habib. However, this year Bridal Couture Week Karachi will be much bigger and brighter with increased number of designers to showcase their bridal delights.
Model and designer Vaneeza Ahmed Ali, who will be involved in the production and choreography of the event, said: "The event will bring forth new and exciting trends that will come about this season. People will get a chance to interact with designers and other people associated with the bridal industry."
With all the excitement and preparations going on for the big event, Bridal Couture Week 2011 Karachi will definitely prove to be an event of tremendous importance in the bridal business plus giving people a recipe for making their weddings an everlasting memory.