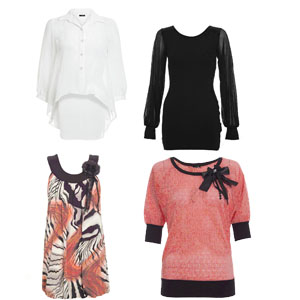 Quiz Clothing, a leading UK supplier of stylish women's clothing and the latest fashion trends, reveal their new collection of coral and floral clothing designs, in line with fashion trends for 2011.
The renowned versatility of the coral shade has been taken on-board by high-end fashion designers and high street retailers alike, with coral hailed by many as the hot colour of the the season. The colour is featured heavily in the latest Quiz Clothing collections, with coral designs featured in everything from casual day-wear, to going-out clothes, and fashion for the workplace.
Teamed with black trim, or elegant materials such as lace, or with silver and pearl embellishments; dresses feature heavily in the Quiz Clothing selection of summer designs. Bandage, bubble, pleated, tunic and long-sleeve dresses are featured on the website and in stores in a bid to offer every customer the opportunity to wear a dress, whatever their style preferences."Coral is fast becoming one of the most prominent trends for the current and coming seasons," commented Haroun Saleemi of Quiz Clothing. "We make it our business to be constantly in-line with these trends at Quiz, and as such are now featuring a vast collection of luxurious and comfortable chiffon blouses and dresses, casual vests, shrugs, cardigans, tops, and hooded fleeces in coral colours , so everyone can make the most of coral this season – whatever their personal style."
Being a woman is not always easy, but let's face it, there are perks. The fact you get to wear such great ladies' fashion items is one of these and there is now a greater choice of these products than ever before, meaning you are bound to be able to find garments and fashionable accessories that suit you perfectly.
Among the women's clothes you might want to make sure you own are smart leggings. These can come in handy in a range of situations, from work-related scenarios to nights out on the town – when teamed up with great tops and other fashionable accessories. Jeans are also a handy thing to have and you might benefit from investing smart and casual versions. Meanwhile, a selection of great skirts is always helpful. Versions for the office, evenings out and warm summer days are all important. Indeed, with summer fast approaching you might want to make such products a priority.
Of course shirts are also crucial and you may need a number of these items, particularly if you wear them to work.  Our stylists are obsessed with chiffon this season – chiffon women's dresses, chiffon scarves, chiffon blouses, chiffon skirts, even chiffon headbands and clip accessories!
Ladies' fashion for the girliest of girls! Our range of women's dresses and princess-worthy latest fashions are second to none. Our stylists almost fainted at the prospect of styling a super-cute girly look. In the end, their look du jour is the stunning pink chiffon pleated long top dress, white tint heart patterned tights, fuchsia frill front strappy stiletto sandals, animal print beret (because even little princesses have some bite!) and silver diamante bow necklace, all topped off with a cream fur bolero coat – too cute!
Still, it can be pretty easy to overdo the cutest princess-inspired latest fashions, so we think channelling the late, great Coco Chanel – "Always take off the last thing you put on"- is a fantastic way to indulge your inner princess stylishly.
Maybe our favourite look of all the romantic girlie latest fashions. It's about pitting super-girlie pieces (like the nude and cream chiffon bow dress) with funky ladies' fashion and accessories – a straw trilby, black-studded leather bag, brown opaque tights, bright red ankle socks and brogues, a chunky knit scarf – the aim isn't to overpower the softer elements or provide an absolute opposite, but just to add a little 'oomph' to the latest fashions for pastel princess perfection!
No matter how much their mothers (some of our mothers!) tried to get them/us into pretty dresses as children, some ladies just don't like the look! But adding an element of soft romance to your edgy look could create something marvellous. Take work wear for example – a pussy bow blouse with a chic, modern, tailored black suit – instant romance (without compromising on looking like you mean business!) And don't assume everything has to be pink and floaty – light grey, dusky blue, and even black can be as dreamy as baby pink when your women's dresses and blouses are made in the right fabric and style.
For those looking to update their look on a budget, we recommend investing in sweet accessories. Diamante necklaces and bracelets add a feminine edge to any outfit. Textile hair accessories and clip-on flowers are easy, cheap and let you be as customised as you like! Our final titbit of wisdom? Get yourself to your local fabric store and buy some ribbons to use instead of hair bobbles – a loose side braid tied with a cute ribbon is the essence of girlie chic!