Catering for a wedding in Pakistani is a serious job that needs some keen intention because it is something that your family and friends will treasure for years.
If we talk about Pakistani marriages that are full of apprehension and panic, catering is something that can overcome all your concerns. You may have in planning the event and make your celebration a big hit. Irrespective of how much you spend on different functions of a wedding, but catering will be a big splash of your wedding.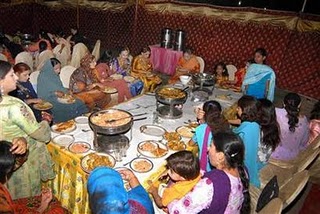 Food
No matter how expensive or stylish dress and accessories you decide for your big day. Food is the most important part of every wedding celebration that will be talk about even after the big day. Catering is an art that bring sophistication, confidence and comfort for you if done properly. If you want to have a memorable wedding, choose professional and famous caterers that can provide supreme quality and variety of food.
Catering services are becoming popular in Pakistani marriages as they specialize in covering every fine detail related to your big day in an efficient manner. They provide excellent provisions of dining table, chairs, souvenirs, crockery, best food items along with waiters and servers. In Pakistan you will find a number of people willing to provide you catering services, but choosing the best one is what you need. Although it's a job that needs hard slog but the effort you made on this task will be paid off and your guests will surely be complimenting you on exceptional catering services.
In wedding food is something that everyone serves to their guests, but catering is something that makes it special with their art and creativity. There are number of famous caterers in Pakistan that can make your big day as beautiful as you always have dreamed it would be.
Some of the famous caterers in Pakistan that you may consider if you are planning your big day are Divine Caterers, Castle Event Décor, La-Rosh Caterers, Mughal-e- Azam, Peace Catering, Elite Caterers etc. These are some famous names in Pakistan catering services that can plan and organize your wedding celebration in a manner you wish to execute that meet your level of satisfaction.
Food is something that no one wants to compromise on, that's why it's better to choose a famous caterer carefully because this will keep alive the great memories of your big day.