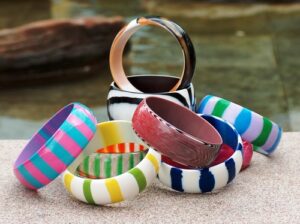 The bangles trend of 80s has revisited with new styles and designs in the form of plastic bangles. The vibrant and striking plastic bangles can add elegance and spark to your outfit in an affordable price.
Bangles trend has always been a part of feminine beauty since old ages. Though bangles trend in the present fashion era has been bit changed, but with the cheeky updates it has become more refined. The beauty of a fashion revival has always been the area of interest of all the fashion followers. Similar to many old fashion trends, the bangles trend has also been revived this summer.
Taking the inspiration from bold and bright choices of 80s, the trends of plastic bangles is back with a bang. By adding these unique and flirty plastic bangles, you can surely put in an updated splash of retro style to your wardrobe. Plastic bangles are considered as a fashionable and charming accessory for ladies, which give grace to their hands. With the changing needs and diversity in bangles trend, many kinds and style of bangles with different materials are nowadays available in the market. However, fashionable plastic bangles are the top most choice among young girls and working ladies.
The colorful punch of plastic bangles can surely put an exclamation point to an outfit of your choice. To embellish you collection of plastic bangles you can choose from the vast variety including plastic bangles in neon, geometric shapes, candy, concentric circles or solid primary colors. The revival of plastic bangles this summer has wholeheartedly welcome the use of big, bold, bright shades along with contrast with neutral and transparent tones.
The summer fashion trend is strongly dominated by bright colors, and plastic bangles and bracelets are the most amazing accessory to add glamour in your persona. The oversized colorful plastic bangles are hot in demand this summer, as they not only look stylish but also reflect the free feminine spirit.
The bangles trend has revived with different materials, replacing gold, silver and platinum bangles with more affordable and stylish plastic bangles. With the super sexy plastic bangles, you can adorn your bare arms with vibrant colors in reasonable price range. The fashionable plastic bangles are also mixed with touches of leather, mixed metal, and wood to give them elegance. Moreover, to give a formal and funky touch to plastic bangles, they are also embedded with shiny objects like rhinestones, beads, sequins and much more.
Plastic bangles and bracelets are exquisite accessories welcoming past decade's bangles trend into the wardrobe of today. With the incorporation of stylish textures, chic design patterns and vibrant shades, plastic bangles have become a visually interesting fashion choice.