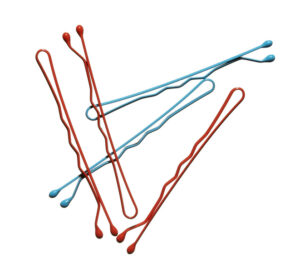 Hair pins save the day whether it is a bad hair day and you want to pull your hair or if you want to add style to your hair, either way hair pins is the solution. Hair pins add a style and a sense of sophistication among women and girls. Hair pins are of so many types such as bobby pins and barrettes that you can use according to your hair type and hair style.
Almost of the hair style include the use of hair pins. There are many specific hair pins allocated for specific hair styles for example if you are making a bun then there are these hair looms with flowers of diamantes on the tips of them, the pins go in the hair but the flower or the crystals show.
These days there is seen a trend of funky hair pins in Pakistan. A lot of women are also in to the hair pin business that they are running from home and it is incredible how they cater to all age groups may it be infants, young girls, women or grandmas. There is a huge variety of hair accessories found in the markets as well. Decorative and jeweled hair pins are for the evenings and for glamorous look. If your dress is not too blingy and you wear jeweled hair pins it will enhance your outfit. The bobby pins are a must have and for everyday use to keep your hair intact and normal hair styles.
Barrettes are mostly for young girls as they can afford to put many colorful hair pins at a time. Get these funky hair pins for your young girls and match with their outfits. They look incredible on young girls and they can also have their own collection. Hair pins fashion is on a boom in Pakistan.