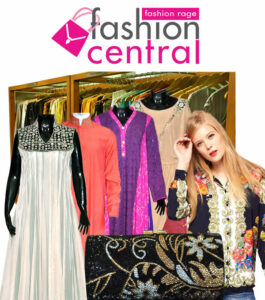 The shopping experience stands completely revolutionized with the spread of E-commerce. The boom of E commerce is felt by all and more and more shoppers are attracted by the e shop facilities. Shopping is becoming easier and with one- click, multi shopping options become readily available and accessible. The major boom has observed in increased online shoppers moving towards Online shopping, which is less time consuming and convenient.
https://www.fashioncentral.pk/ the most prominent fashion and lifestyle magazine's site in Pakistan. After launching its 1st ever physical brand store on September 26th, in Lahore, it also went ahead with the eShop facility.
Now, Fashion Central is serving customers through an online facility and has set high standards in terms of product quality, customer service, timely delivery and constant customer follow up. Fashion Central is serving as a Fashion hub for women and men wear. The competitive advantage Fashion Central has on its competitors, is its value added features; like free delivery across Pakistan, 7 days return policy, great sales and promotional offers as well as overseas delivery.
The Fashion central eShop homepage is easy to navigate. It requires you to simply click "Shop by Designers" and will enable you to have a look into the products of more than 30 designers. The complete profile details of each designer are just a click away. You may browse all the available list of designers and choose your desired products with ease.
Under each of the product image, there are 4 available options: Add to cart, Add to wish list-, Add to compare and product details. For buyers ease, the products can be sorted by lowest to highest price, products names from A to Z and Z to A alphabetical order. Total quantity available with price range is also mentioned. Products can be viewed in Grid or in a List form.
The clothing brands available including labels from Lahore, Karachi, Islamabad, India and UK. Afsheen Mehboob, Aisha Imran, Ayesha Elahi, Ayesha-Somaya, Dhaagay by Madiha, Ethnic by Farhat, Faizan Jamil, Fizza Shah, Hira Omair, Huma Taj Couture, High street, Hamza Tarar, Imbias, Indifference, MBM, Midas, Monica Paracha, Maria Khan, Nayna, Rubby Bhandari, Revamp, Sammy K, Sana Barry, Sanam Agha, Sara Salman, Shireen Lakdawala, Sughi's & Uzma Sheraz, Munib Nawaz, Nabeel & Aqeel, Yadou. The PIFD's Top graduate's collections are also available. Famous brands like Artimmix, H&M, New Look and Forever21 collections are also available on Fashion Central brand store.