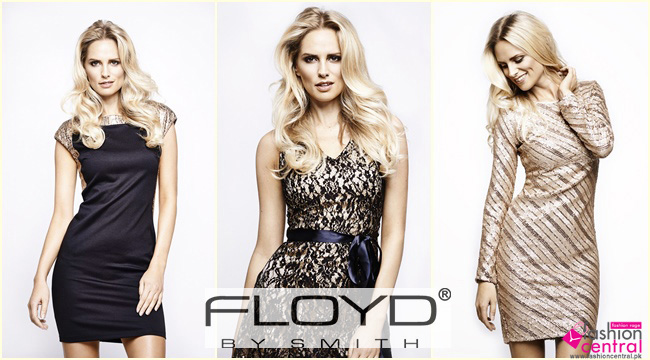 Pakistan's entertainment and fashion industry seem to be booming, despite all odds. New foreign designer labels are investing in Pakistan a lot viewing Pakistani soil as one that may come bearing fruits and profits for their business venture. Availing this productive opportunity an internationally acclaimed clothing label has reached to Pakistan with a bang. A Renowned foreign brand Floyd by Smith has been brought to Fashion Central both online and offline.
Floyd by Smith, retailing clothes are designed and manufactured in Norway multi-brand stores and are now available to the fashion seekers of Lahore at the prestigious fashion store "Fashion Central Multi Brand Store, MM Alam Road, Lahore", a best place to find a perfect mesh of tasteful tailored Floyd ensembles at value added price.
Floyd by Smith western ensembles are displayed at Fashion Central Multi Brand Store displays and will surely meet the dire fashion needs of shopaholic and variety seekers with a wide range of clothes. The subversive daywear collection ranges starts from, denim bandeau dresses with witty rear pockets on front, to androgynously chic informal dresses Unequivocally chic evening-gowns , shirred-waisted mini dresses, body-skimming layered flimsy chiffon tops, laced bishop sleeves and flaunting cuts epitomizes glamour and elegance to the wearer. Meeting to the modish fashion needs of our fashion seeking ladies Floyd has introduced the most liked outfits from the western-collection especially the paste hued shirts with embellished collars and a chic crop-top with military buttons.
[contentblock id=1 img=adsense.png]
The western winter collection of Floyd by Smith is also available at Fashion Central Online facility allowing you to keep updated with Floyd by Smith exclusive winter stock in a single click. Addition of new collection every week and updatation of stock is a regular process in order to meet the requirements of the fast changing trends in fashion. The chic, trendy and spectacular curvy winter wears are especially designed for the young females who prefer to stay up-to-date with trends and are fashionably aware of their signature style. Through easy buying process and convenient payment methods the buyers can facilitate themselves by ordering from home.
Floyd's winter collection 2014 entails fresh and warm pieces which include woolen crop tops, flimsy shrugs with minimalist cuts, sweaters, leather jackets, leather crochets, short coats, sagging loose sweaters and open gown style shrugs . Glamorized shirtwaists, flowing goddess gowns and cheeky skin fitted blazers are chicly tapered and streamlined to perfection.
About Floyd by Smith
Floyd by Smith was founded by a Norwegian Smith family in the mid-80s. It began with its headquarters in Holmestrand and soon entered the brick and mortar world in 1986. Apart from delivering Floyd-outfits to 259 independent stores in Norway and having eight concept and 12 co-operative stores under their own label; their clothes are also sold in multi-brand stores across the country. They have Cash & Carry wholesale too, which continues to boost its sales. It is also not only well known for its collections that are specially designed from Norway, but also because of their dedicated salesmen who are knowledgeable in their field of work.
About Fashion Central Multi Brand Store
The Fashion Central Multi Brand Store has embarked itself as a luxurious and top class store in the most demanded over crowded zone of Lahore. It is a purpose-built facility with features like 3,300 square feet covered area, awesome interior, refreshing environment and the creations of 50 women's wear designers, 5 men's wear designers and 5 jewelry designers.
[contentblock id=2 img=adsense.png]
The operations at the store continue to touch a dynamic customer base, who in turn has responded by showing faith in us. Customer's reliance on the Fashion Central Brand is visible and what the most demanding customers like is a permanent presence, a focus on diversity and the accompanying needs fulfillment.
The Fashion Central e Shop aspires to create a platform where patrons are provided with a fully immersive shopping experience by keeping fashion enthusiasts abreast of the latest designers and trends in the fashion industry through the brand's popular online fashion portal. Aim is to provide a one-stop-shop for the diverse fashion needs.
For more information about fashion central, please visit us online at www.shopping.fashioncentral.pk
Our social media pages
https://www.facebook.com/FashioncentralMultiBrandStore, https://www.facebook.com/fashioncentralpk, Twitter: https://twitter.com/fashion_central
Media contact:
Khawaja Pervaiz
Phone  +92-300-0800749, +92-42-35772252, +92-300-8480918,
EMAIL
OFFICE ADDRESS
Fortune Mall, 20-A, Block C-3, Hussain Chowk, MM Alam Road
Lahore, Pakistan-54600
Contact via Email