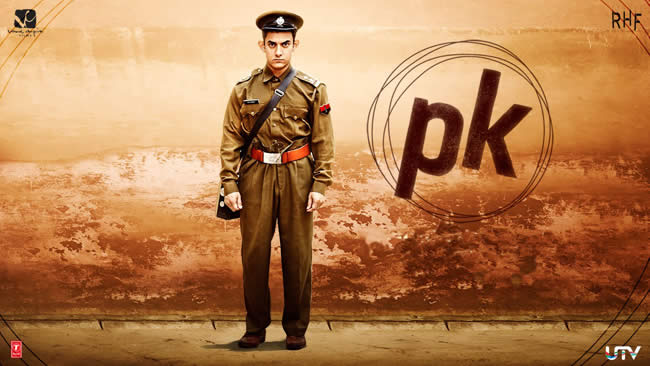 "PK," which is reportedly made with a budget of Rs. 85 crore, has already recovered its cost and continues to made massive profits. The Aamir Khan starrer has produced Rs. 179.5 crore in Return on Investments (ROI). The film has already made 211% profits and has been positioned third in the list of films with maximum ROI in 2014.
The list is capped by Kangana Ranaut's "Queen", followed by film "Yaariyan," which have raised 369% and 233%, respectively.
The film has produced approximately Rs.8.5 crore on its 13th day (second Wednesday) at the domestic box office and its 13 days collections amount to Rs.264.50 crore.
"PK" has grossed Rs.482 crore at the worldwide box office and has beaten "Chennai Express" collections. It is expected to cross the 500 crore mark and become the second Bollywood film and Aamir Khan starrer to achieve the feat after "Dhoom 3." If "PK" continues its decent run, the film is likely to exceed "Dhoom 3" collections and emerge as the highest grossing Bollywood film of all time.
"PK" is expected to fare well on 14th day as it is New Year holiday. The film is sure to cross the Rs. 270-crore mark in two weeks and is expected to become the first Bollywood entertainer to enter the Rs. 300 crore club. If the film crosses the 300-crore mark, it will be the third Aamir-starrer to set a new benchmark.
The actor's 2008-release "Ghajini" started the 100-crore club and his 2009-release "3 Idiots" entered the Rs.200-crore club. His 2013-release "Dhoom 3" was expected to cross the Rs.300-crore club, but missed it and earned around Rs.280 crore. "PK," however, has high chances to cross the 300-crore mark as there are no big releases for at least another week.
Directed by Rajkumar Hirani, "PK" is a satirical drama with Aamir playing the role of an alien. Anushka Shetty, Sushant Singh Rajput, Boman Irani and Saurabh Shukla are also part of the film's cast.