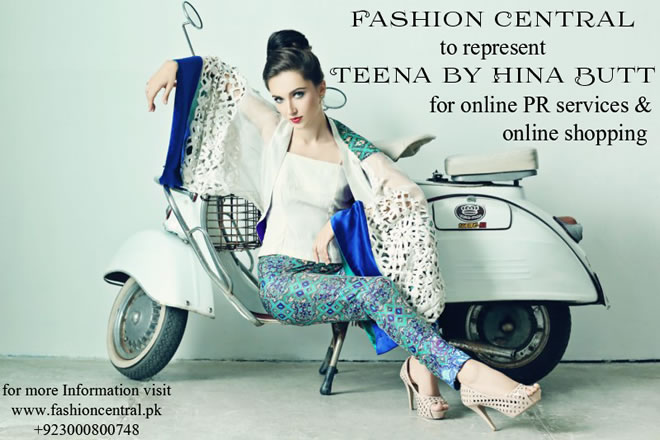 Teena by Hina Butt is regarded as a designer of excellence and her brand carries a touch of ready acceptability. She is regarded among the leading designer brands of Pakistan and is definitely one of the top sellers.
As for Fashioncentral.pk, it is considered an online publication and is part of an online Media house, with a huge viewership and in the world of fashion. It attracts a viewership of over 3 million pageloads a month and a vibrant social media community of over a million. Their link with video channels on, Dailymotion and Youtube, Vimeo fetches over 4 million views. To supplement all this is the online monthly publication that is available for download for Free. Viewers across the world look upto Fashion Central as an online portal that is comprehensive in updates on the news and views of the fashion world.
Collaboration between Teena by Hina Butt and Fashion Central represents a relationship between two accomplished professionals of the fashion world .And this collaboration will bring forth to the laps of the viewers, complete and fulfilling updates on the products of Teena by Hina Butt.
Right now, for Customers interested in pre order information the cell number to be called is +92-300-0800748.