As excited as we are for celebrity weddings, what we really look forward to is what the bride will wear down the aisle. So when Priyanka Chopra got married to Nick Jonas over the weekend in two (yes—two!) wedding dresses, we knew we were in for a treat.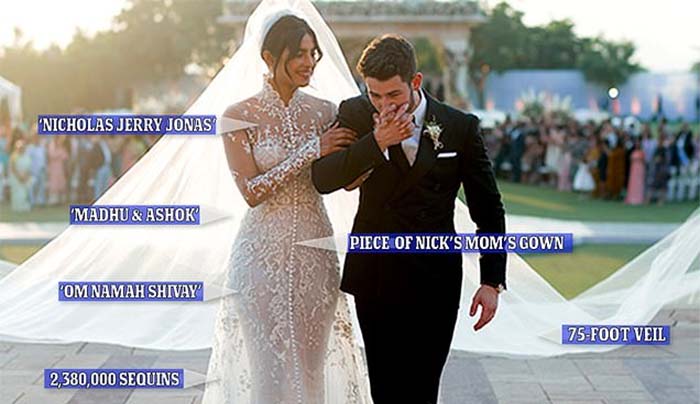 To represent both her and husband's background, Chopra hosted two wedding ceremonies in India: a Christian ceremony on Saturday, officiated by Jonas's dad, Paul Kevin Jonas, followed by a Hindu one on Sunday, according to People. And though there's a lot to love about both of Chopra's wedding gowns (her 75-foot-long veil and her 2,380,00 sequins, for starters), what we love even more secret messages and tributes she sewed into them.
Read Also: Priyanka Chopra And Nick Jonas' Mehendi Photos Are Here, And They Look Amazing
For Chopra's Christian wedding, the bride wore a white long-sleeve gown with a high neck and scalloped sleeves. Sewn into the dress was also a piece of lace from her now-mother-in-law Denise Jonas's own wedding dress from 1985. Along with the fabric, Chopra's wedding dress also included eight moving messages sewn into its embroidery: "Nicholas Jerry Jonas" (the full name of her now-husband), "1st December 2018" (the date of their wedding), "Madhu & Ashok" (the name of Chopra's parents; Chopra's father, Ashok Chopra, died of Cancer in 2013), "Om Namah Shivay" (a Hindi mantra invoking Lord Shiva), as well as the words, "Family," "Hope," "Compassion" and "Love."
But Chopra wasn't the only one to include a secret message. Inside the lapel of Jonas's tuxedo was a small piece of lace from Chopra's wedding dress, with the Urdu words, "My Jaan," meaning "my life." The Quantico star also included secret messages in her Hindu gown: a traditional red lehenga with a matching cropped top and veil. The messages included her husband's full name and the name of her parents sewn into the waistband of her skirt in her native language. As fo the dress itself, the 110 embroiderers from Calcutta, India and more than 3720 hours to create hand-cut organza flowers and French knots for the gown.
 

View this post on Instagram

 
View this post on Instagram