The actor's manager, Meshal Cheema, took to Instagram to share that Saba might have been hacked – Meshal received calls from Saba's number with an unknown male on the line, all the while Saba had her phone with her.
According to Meshal's testimony on her Instagram story, she "got almost 10 calls from Saba's number asking me if I am Mishi and the person was an anonymous young man."
She went on to explain that the man said that he had found the phone at a park Saba jogs at, and upon inquiring how he accessed the phone, he implied that he found it unlocked. "I asked him who and where he is, to which he kept asking if this is Saba's number and when I got mad, he cut the phone," she wrote.
That's not all, Meshal relayed that she proceeded to call Saba who told her she is home. "She was shocked that how is someone using her number to call."
Meshal then added that they suspected foul play through the video chatting app Houseparty that has been gaining popularity during the lockdown – scores of people are using it to stay in touch with friends.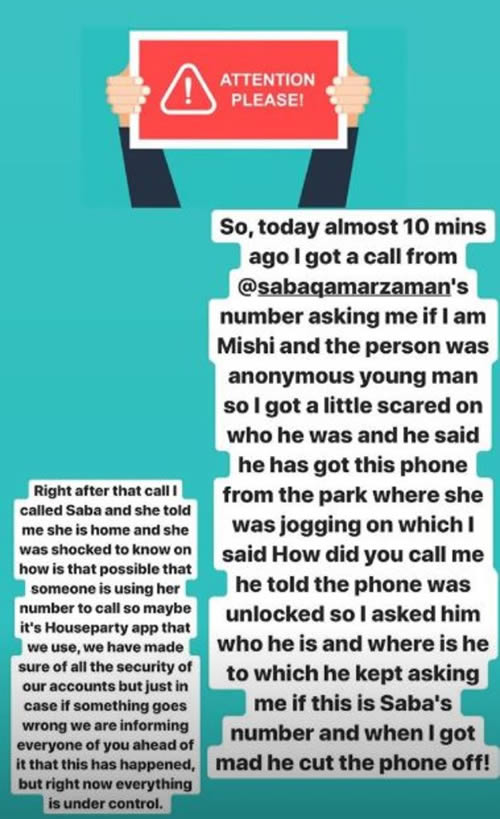 The app has come under scrutiny more than once on Twitter as well, with people claiming that they have been hacked through it.
However, there is no concrete proof of such a hack actually originating from Houseparty.
As of right now, things are under control at Saba's end, as confirmed by Meshal in her post. "We have made sure that all accounts are secure now, but just in case, if something goes wrong, we are informing every one of you ahead of time that this has happened," she said.
Here's hoping the actor's details stay safe!