It's probably the most used and least appreciated item in the kitchen, and one we couldn't do without. From filling the kettle and rinsing fruit and vegies, to soaking pots and scrubbing plates, the kitchen sink gets more attention than a Kardashian. So when it's time to splash out and buy one, it's worth considering all the options to find the perfect style and fit for you.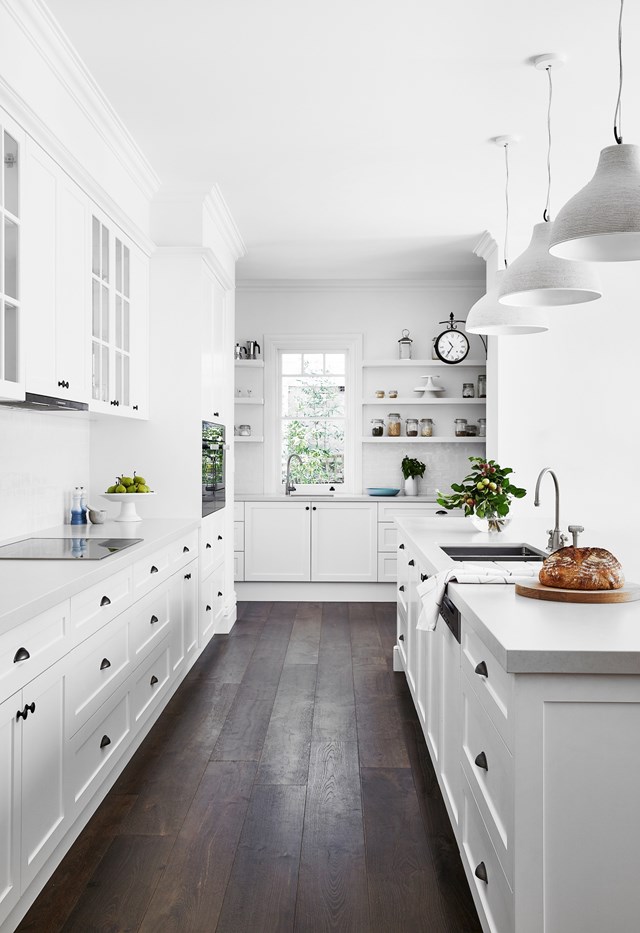 TYPES OF KITCHEN SINKS
INSET SINK
"Inset basins are the most popular, as they're both durable and inexpensive," says Michelle Irvine of Abey. Tapware can also be mounted to the sink itself, however, the raised rim can trap grime, making it harder to clean, so you may prefer to opt for a lower-profile micro or bevel edge.
UNDERMOUNT SINK
Tucked under the benchtop for a minimalist look, undermounts make cleaning a cinch, as cooking spills can be easily wiped from the bench straight into the bowl. "But, the exposed edge is susceptible to chipping," says Nadia Hursky of Blue Tea Kitchens, who notes that undermounts can only be attached to a solid surface, such as stone, granite or marble. As most undermount models are generally basins only, you'll also need to consider cut-outs for tapware and drainage.
FLUSHMOUNT SINK
For the ultimate in streamlined style, the best option is a flushmount sink, where the stone benchtop is carefully routed to allow the sink's edges to sit level with the worktop. The seamless transition between the bench and sink maximises the usable workspace and, best of all, its smooth surface is a dream to clean. The high-end look is reflected in the price tag, however, with flushmounts typically more expensive to buy and install.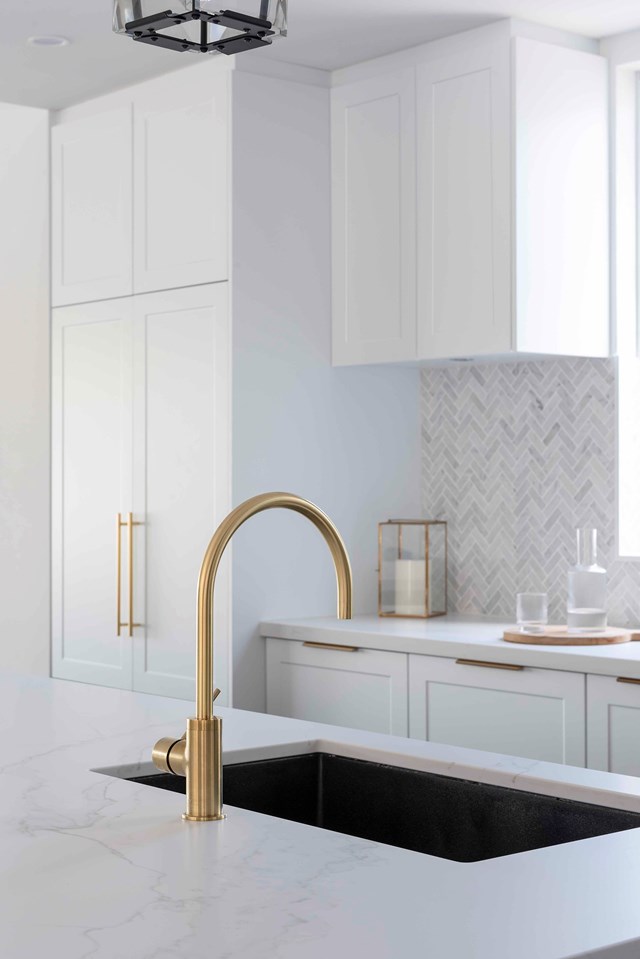 MATERIAL OPTIONS FOR SINKS
ENAMEL SINK
Pros: Made from a heavy, cast-iron base covered with a lustrous enamelled finish, butler sinks boast rustic charm. Often large and placed at the edge of the bench, they're also ergonomic and easy to clean.Cons: Enamel sinks are hefty, so often require reinforced cabinetry to support the considerable weight, says Nadia. "Over time the enamel can also wear away, so it's best to avoid abrasive cleaners and take care to avoid chipping the finish," she advises.
STAINLESS-STEEL SINK
Pros: A brilliant all-rounder, stainless steel is durable, hygienic, easy to clean and affordable. "It's also available in a variety of colours, such as copper, gold and gunmetal, which can make a great statement," says Catherine.Cons: Scratches may irk fastidious owners, so it's best to opt for a brushed finish to help disguise imperfections. "Low-quality stainless steel sinks can also be quite noisy when cleaning dishes, so look for a thicker steel with good sound insulation," recommends Nadia.
COMPOSITE SINK
Pros: Typically made from a granite, quartz and resin composite, this heavy-duty material is scratch proof, stain resistant and UV stable. "Nanogranite versions also come with an antibacterial nano-clean finish that repels bacteria-causing dirt, making them incredibly hygienic," Nadia adds.Cons: "Boiling water has been known to crack composite, and water marks can be an issue in dark bowls," she says.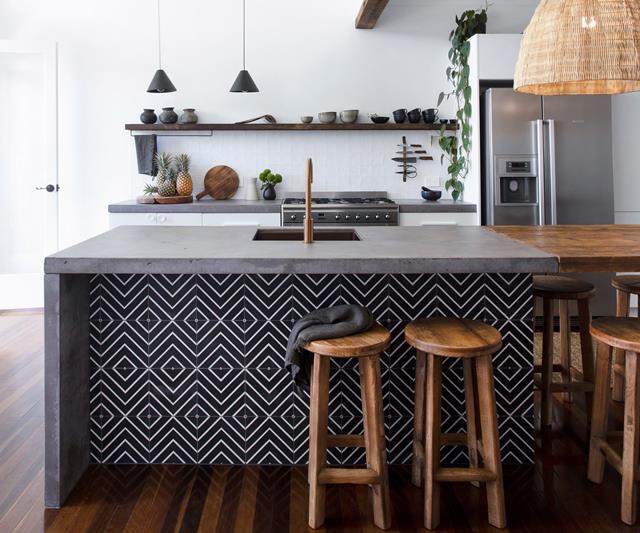 THE BEST KITCHEN TAPWARE
Nothing sets off your sink and benchtop like a terrific tap. With a myriad of spout styles, heights, mixer options and finishes on offer, try drawing style cues from your kitchen, suggests Freedom Kitchens' Felicity Page. "Brushed nickel and black are on trend in contemporary kitchens, but for timeless appeal you can't go past a stainless-steel or chrome swivel mixer tap," she says.
Functionality is also key. "Professional-looking sink mixers with pull-out sprays and pull-down taps can often be a statement piece, particularly on an island bench, with the tall adjustable head suited to washing woks and large pots and directional sprays ideal for rinsing vegies," says Ross Cass of Cass Brothers."When selecting size and shape, think about how you mainly use your sink," suggests Felicity. "Ideally, the bowl should be deep and wide enough to immerse your biggest pot, yet not encroach too much precious under-bench storage."
Kitchen and household size may also influence your choice. A single bowl often suits a compact kitchen with limited bench space, whereas dual sinks are ideal for families.The kitchen sink should preferably be sited in an open space, without cabinets overhead, advises Felicity. "Try to install it under a window where you can enjoy a view, natural light and ventilation, or locate it at one end of the island bench to make the most of an open-plan lay out," she says.