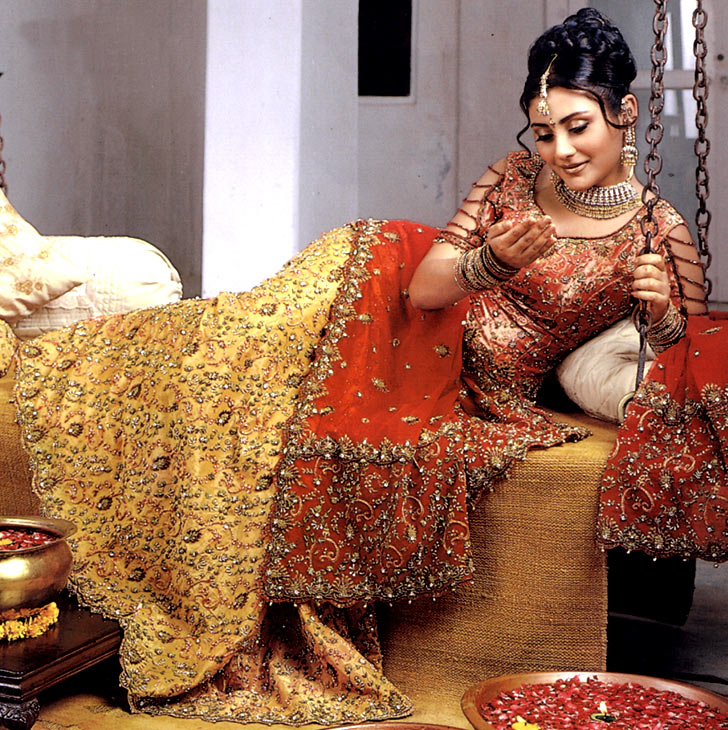 A Pakistani wedding is an occasion that provides a call for celebrations, along with the excitement of flashy bridal dresses that are the basic color of the whole event. The bride makes all possible effort to look beautiful on her wedding day by choosing elegant Pakistani bridal dress, traditional jewelry and exquisite makeup.
The selection of Pakistani bridal dress is the most difficult job to do in the wedding season. As fashion trends change, the demands and requirements of Pakistani bridal dress also changes. There is a variety of luxurious attires available for the brides to pick up their desirable Pakistani bridal dress including sharara, lenhgas, sarees, salwar kameez, as well as, pishwas. While you are selecting your choice of bridal dress, keep in mind these style tips to help you make the right decision.
Color of Bridal dress
In all the fashion trends, red is an obvious choice for the color of Pakistani bridal dress, however, nowadays many colors are ruling the vast variety of bridal dresses including appealing bolds, pastels, maroon, bottle green, turquoise and many more. The selection of color for bridal dress should sinks well with the complexion of the bride to enhance her charm and elegance.
Traditional Bridal Dress
As per fashion trends of today, the bride always wants to pick up the bridal dress that is modern and ethnic at the same time. The colorful Pakistani bridal dress with traditional work is the best among all the options, which never fails to attract the brides.
Additions on Bridal Dress
The elegant working on Pakistani bridal dress is a common feature that helps enhance the look of the bridal dress and brides' persona on the big day. Ornamental motifs and other additional works like dabka, kora, zari, zardozi, cut work, mirror work, kamdani, naqshi, beads, badla, sequins, stone-work etc. are among the superior embellishments on the bridal dress that add beauty and elegance to Pakistani bridal dress in different dimensions.
Although, Pakistani Bridal dress offers large range of elegant working options, however, it's your decision to decide how much you want to input on your bridal dress and make the selection of work according to your budget and bridal dress requirement.
Fabric of Bridal Dress
Another important aspect of choosing bridal dress is the selection of fabric. The fabric and its texture should be given much importance while picking up your bridal dress, as the nature of fabric can affect your fitting and stitching style. There is a huge range of fabrics available for Pakistani bridal dress including silk, jamavar, katan silk, crinkle chiffon, pure chiffon, banarsi and many more. The fabric for bridal dress should be chosen in accordance with the color you have selected and type of work that you have decided to put on your bridal dress.
Prices of Pakistani Bridal Dress
The price of Pakistani bridal dress varies from few thousands to 1 lac or more. However, it's up to you to make a beautiful bridal dress according to your affordability range. The factors that affect the price of Pakistani bridal dress are fabrics and additional embellishments. The additions of stones, natural stones and pearls will definitely made your bridal dress more expensive. Similarly, the use of chiffon fabric will also enlarge the cost of your bridal dress. To be on the safer side, always try to calculate the expenses separately and work out to make an elegant Pakistani bridal dress on your wedding day.