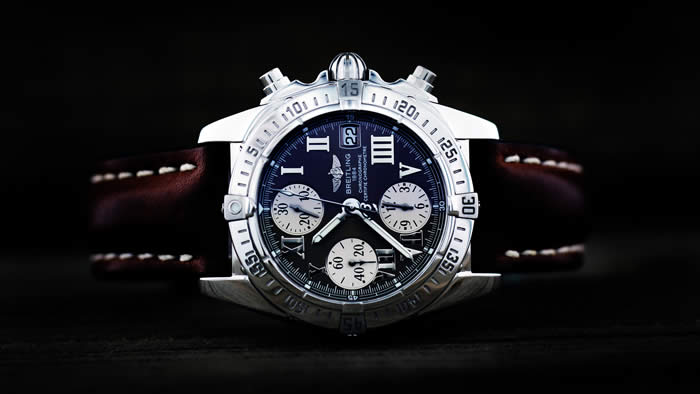 Breitling SA Watches were introduced in 1884 by Léon Breitling in Saint-Imier and it is Swiss luxury watches brand based in Grenchen, Switzerland. It is also known for precision-made chronometers designed for aviators. Discover the best watches from the wide range of online favorite watch models and Swiss watches of style, luxury style watches for men and women in the affordable price range. Breitling introduces such a unique design luxury watch services for its watch lovers to provide the best range of watches and manufacturer with aviation.
The production of a high-quality chronograph used inside the Breitling brand watches. It has been considering as an ideal Breitling stopwatch in the market and used a high-quality chronograph in this model which made major contributions to his business. After the innovation to the world of modern Chronograph; the company has introduced fast dial setup and fast speed Chronograph and guaranteed easy grip and handling. Due to lots of stylish elements, The Breitling Avenge has become an ideal choice for luxury watch lovers. Breitling mens watches have great demand in the whole world and famous due to its great user-friendly features. Almost every model has impressive functionality and sturdiness features, the watch models have its legendary aviation chronograph Navitimer. The best model has a power reserve of 40 to 55 hours and It had the Cosmonaute with the 24 hour-display.
What are the Best Breitling Watch Models and Prices
There are different types of models and watch series introduced by the company for its watch lovers and almost features of every model is different which make it different from the other available watch models. Avenger II Seawolf (45 Size – in mm) – 3,400 USD, Navitimer B01 Chronograph (43 Size – in mm) = 6,300 USD, Superocean II 44 (44 Size in mm) = 3,400 USD, Superocean Héritage 42 (Size in mm) = 3,400 USD, Chronospace Automatic Black Steel 46mm = ¥517,408, Chronomat 41 Black Steel 44mm = ¥685,093, Transocean Chronograph Limited Edition Blue Steel/Leather 43mm = ¥617,500, Cosmonaute Stainless Steel / Blue / Croco = ¥600,741, Chronomat 44 Limited Edition Yellow Steel/Textile 44mm = ¥592,500, Chronomat 44 GMT Black Steel/Rubber 44mm = ¥656,297, Chronomat 44 GMT Stainless Steel / Metallica Brown / Bracelet = ¥711,852, Transocean Chronograph 1461 Stainless Steel / Black / Milanese = ¥767,408, BREITLING Transocean Chronograph Automatic Men's Diamond Watch = ¥804,445, Chronomat 47 GMT Stainless Steel / Blackeye Gray = ¥620,278, Chronomat GMT Black Dial Chronograph Automatic Men's Watch = ¥740,649, Breitling Transocean Chronograph Unitime 46mm = ¥730,371, BREITLING Avenger Blackbird 44 Automatic Men's Watch = ¥777,686, BREITLING Transocean Chronograph Automatic = ¥906,297, Breitling Bentley B06 Mens Watch 49mm = ¥962,871, Breitling Watch Galactic 36 SleekT Pearl Diamond = ¥860,000. Breitling Bentley B05 Unitime Mens Watch 49mm = ¥1,165,556, Breitling Bentley GMT Light Body = ¥888,797 and numerous of other world's top class luxury watch brand have numerous built-in features for luxury watch lovers.
What are the Best Resources to Buy Breitling Watches?
Almost every watch brand model has its own demand and stylish features which attracts its users from around the globe to show their interests and buying capacities to consume anywhere in the world. Water resistance capacity of Breitling models is different like; Breitling Transocean = 100 meters, Breitling Avenger = 300 meters with 40 to 55 hours power reserve, Breitling Chronomat, Breitling Bentley, Breitling Superocean and Breitling Navitimer. In every region, the sellers and the reliable watch service proving companies are operating its operations and timely services on behalf of their experts. The Internet provides fastest and instant sources to access the most suitable watch suppliers to get the desired watches with free shipping services. Visit our website https://freespinspromo.com and get exclusive sign up free spins and no deposit real money bonuses
A brand website is an important source to access the best watch company and enable users to find the best model from the huge collection of luxury watches. Any range, any brand, and any level of watch model can be found in different watch shops. Some watch shop owners provide a discount on major seasons and help the clients to use heavy weight luxury material watch with free and the fastest shipping services anywhere in the world. The nature of the movements, and modern quantization, all the mechanical watches are expensive than the quartz watches and available 24/7 hours to help people around the world to access quality watches anytime.
CVC Capital Partners is controlling the Breitling in all around the world and now it the world's most admired luxury watch brand in the world. The brand's original website is the main and the most authentic resource to get free watch deliveries from anywhere in the world. There is also another option to get the genuine models which are the licensed based suppliers who get permits from the companies to sell on behalf of them and enjoy the quick responding service.