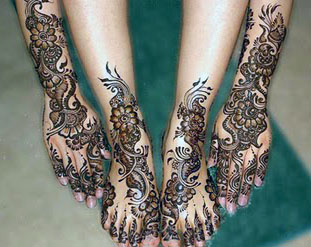 Mehndi is perennial ingredient of Eastern women fashion. Its Eid, wedding or any carnival mehndi is utmost part of it. It shows excitement and affiliation of women having it on hands or other way.
Mehndi designs have gained popularity since time in Pakistan and are always there on festive events being special savor of Pakistani trends.  Mehndi in its all manifestations reflects our culture; it saves tradition moreover its exquisite for Pakistani women ornamentation showing her passion for the day.
Most of ladies apply mehndi for their loved ones as a symbol of love and heart associations. They enthusiastically wear this art to have their soul mate around ogling at their hands and parts exposed to beautiful mehndi designs. Many singers too respond their feelings through mehndi songs such as one "ayi mehndi ki yeh raat, lai khushiyon ki barat" famous in Pakistan.
Up till now mehndi is considered as sheer piece of Pakistani fashion depicting beauty and style prevailing here. It includes variety of mehndi designs owned casually or formally for occasions. Pakistani mehndi designs are fascinating for Eid and party endowing feminine appeal to women solely.
Temporary mehndi tattoos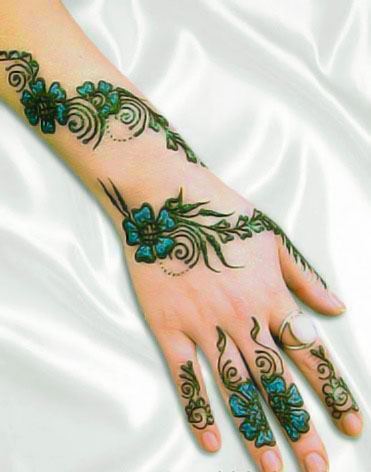 Mehndi too has transformed its way of application like many other cosmetics. It is up graded in temporary mehndi tattoos that are instantly applied and removed when required without coloring skin. Most of the mehndi designs, patterns and styles are replaced by mehndi tattoos for bridal mehndi designs and Arabic mehndi designs.
Glitter mehndi designs
Glitter mehndi is more fashionable mehndi. It is applied fully on arms and hands especially for Pakistani wedding functions as mayu, mehndi and barat. Girls along bride get these glittery embellishments on hands and feet enriched with shinning disco in silver, golden, blue, red and green color. Glitter mehndi decorates hands pleasantly along making it functional on wedding day.
Traditional mehndi designs
Traditional mehndi designs include various patterns like little round at palm and fingers adorned with floral designs and many others for back and front of hand.